TREATMENT OF DEMENTIA
There are currently no cures for the types of dementia covered in this report. There are, however, a handful of medications that have been shown to slow progression and lessen symptoms. The majority of drugs being used currently to treat AD fall under the classification of cholinesterase inhibitors, which prevent the breakdown of acetylcholine. Acetylcholine is a chemical messenger used by neurons in the hippocampus and the cerebral cortex, areas important in thinking and memory skills. By early 2004, the FDA had approved four cholinesterase inhibitors to treat mild to moderate AD symptoms: donepezil (Aricept), rivastigmine (Exelon), galantamine (Reminyl), and tacrine (Cognex).7 Donepezil has also been shown to be effective in treating vascular dementia (69,70).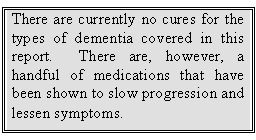 Another class of drugs approved to treat AD is that of NMDA receptor agonists, which regulate the activity of glutamate, another brain chemical involved in memory function. As of mid-2004, only one drug in this class, memantine (Namenda), had been approved to treat AD, but several others were in clinical trials (71). Memantine may delay loss of daily function in patients with moderate to severe AD.
A third class of drugs being tested are anti-amyloid drugs such as the vaccines discussed above. These drugs prevent the formation of the beta-amyloid plaques by inhibiting the enzyme gamma secretase. This prevents the strings of beta-amyloid from clumping together. One anti-amyloid drug called Alzhemed is currently undergoing efficacy trials (72).
The recommended treatments for vascular dementia include those that treat the underlying causes of the condition, e.g., hypertension, diabetes, and high cholesterol. The primary goal of this treatment is to prevent further strokes or narrowing of the arteries. Hypertensive agents are often prescribed, as are medications to reduce cholesterol levels. A 2004 French study presented findings that statin drugs used to lower cholesterol also had therapeutic benefit for AD. Statin treatment was associated with a slower rate of cognitive decline, perhaps due to a mechanism independent of the cholesterol-lowering action (73).
Antiplatelet agents such as aspirin, clopidogrel (Plavix), and extended-release dipyridamole (Aggrenox) that prevent clotting and hemorheologic agents such as pentoxifylline (Trental) that lower blood viscosity are frequently prescribed. Antidepressant drugs may be used to treat the depression that often accompanies vascular dementia.
In addition to conventional drug therapies, new research presented at the American Heart Association's Second Asia Pacific Scientific Forum in 2003 suggests that a Chinese herb called gastrodine could improve memory, orientation, and language in patients with mild to moderate vascular dementia (74).
7 Currently, Cognex is rarely used because of serious side effects.