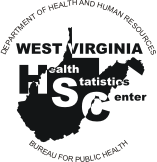 Message from the Commissioner
Executive Summary
Table of Contents
Section I. Prevalence
Section II. WV Cigarette Consumption
Section III. Deaths in WV due to Smoking
Section IV. Health Care Costs Related to Smoking
SAMMEC
References
Credits
TOBACCO IS KILLING (AND COSTING) US

A Report on Tobacco Use Rates, Smoking-Related Deaths,
and Smoking-Related Health Care Costs in West Virginia



Message from the Commissioner
Most of the leading causes of death at the turn of the 20th century were diseases that are rarities today, primarily due to improved sanitation and availability of vaccines and medicine. The good news for West Virginia is that the #1 leading cause of death---tobacco-related diseases---can be stopped without vaccine or medicine. The bad news is that, despite increased funding from federal and state programs and private sources to educate the public on the dangers of cigarettes and smokeless tobacco, we are still maintaining a high rate of tobacco use among adults and youth.
Nearly 28 percent of adults in West Virginia smoke (3), but, more alarmingly, the same percentage of our teenagers are current smokers and approximately 25 percent, or one in four, are daily smokers, addicted before they are adults (4). About 7 percent of our kids reported in 2003 that they had smoked a whole cigarette for the first time by the time they were eight years old; 28 percent of our kids had done so by the time they were 12 years old (4). The rates of smokeless tobacco use among West Virginia males are also among the highest in the nation. In fact, the state's 2003 rate of 16 percent among adult males was the highest among the 12 states that asked questions on smokeless tobacco use (3) in that year.
On average, 11 West Virginians now die every day because they smoke cigarettes. That's nearly 1 in 5 deaths in our state caused by smoking! Although the death certificates may list the cause of death as lung cancer, heart disease, emphysema, or asthma, "cigarette smoking" could just as well have been listed. Those who die from smoking-related diseases come from all walks of life, all professions, all socioeconomic groups, all family situations, all religions, all ethnic backgrounds. The loss of even one of these lives is immeasurable. In dollars alone, the direct health care costs of cigarette smoking in the state of West Virginia are staggering, estimated at over a billion dollars in 2004. Combined with mortality-related productivity losses, the total exceeds $2 billion!
As the Public Health Officer for West Virginia, it is my responsibility to inform you that cigarette smoking kills approximately 3,800 of our citizens each year, causes disease in thousands of other citizens, and costs billions in direct health care and mortality-related productivity costs, money that can be saved if we reduce the rate of smoking. We will continue to experience these costs in lives and dollars unless we continue to fund and implement a comprehensive plan for tobacco use prevention and cessation. Let me reiterate that, as with preventable diseases, an ounce of prevention is worth a pound of cure, but this requires a forward-thinking strategy.
This report provides the reader with data on West Virginia's tobacco use rates, deaths due to smoking, and the calculated direct health care and mortality-related productivity costs of smoking in our state. While these data are estimates, they are conservative and do not take into account indirect health care costs, indirect costs from morbidity-related lost productivity, or costs associated with secondhand smoke. We know that the use of other forms of tobacco (snuff, chewing tobacco, pipes, and cigars) is a contributing factor toward deaths from oral cancers, some of the deadliest forms of cancer. Because of the lack of published research on the economic costs attributable to these forms of tobacco use and the resulting disease, this report does not include these data. If you require data that are not covered in this report, please contact my office.
Chris Curtis, MPH
Acting Commissioner
West Virginia Bureau for Public Health