DEMOGRAPHIC AND SERVICE DATA (CY 1995):
Client Profile:
In 1995, the typical West Virginia family planning client was a white female between the ages of 20-34. Her typical family size was one (1) and prior to her clinic visit, she had never been pregnant. She had completed between 10-12 years of formal education and her income most frequently fell below 150% of the federal poverty level ($11,610 annually for a family of one). Upon leaving the clinic, the client was most likely prescribed oral contraceptives.
A more detailed profile of Family Planning Program clients served in 1995 in terms of demographic factors follows:
CLIENTS SERVED BY AGE AND SEX, 1995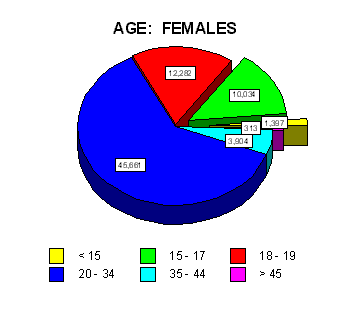 Approximately 31% of all female clients served in Family Planning Program clinics were under 20 years of age.
Women age 20-34 comprise 60% of visits to Family Planning clinics.
Of the 2,251 male clients served,
52% were under 20 years of age.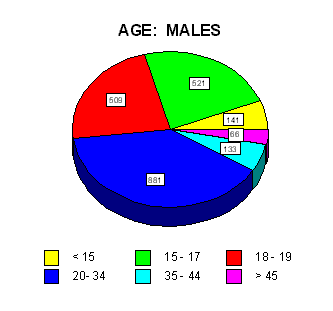 DHHR/BPH/OMCH/WS/FP/9-96
---
(Please select one of the following to view graph)
CLIENT VISITS BY NATIONAL ORIGIN, 1995
CLIENT VISITS BY ETHNICITY, 1995
CLIENTS SERVED BY FINANCIAL STATUS, 1995
CLIENT VISITS BY SERVICE PROVIDER, 1995
FAMILY PLANNING CLIENTS SERVED, 1990 - 1995
FUNDING SOURCES - calendar Year 1995