Contents
Credits
Summary
Chapter 1
Chapter 2
Chapter 3
Chapter 4
Chapter 5
Chapter 6
References
Appendix A
Appendix B
Appendix C
Appendix D

Chapter Five
Access to Cardiovascular Care
Health Care Coverage | Self-Perceived Status | Health Care Providers
Any attempts to mitigate the problem of cardiovascular disease in West Virginia must recognize the importance of access to quality health care support. Two aspects of access to care addressed in this document involve an individual's ability to afford care and the type and quality of care available to him or her.
Health Care Coverage. The Behavioral Risk Factor Surveillance System 12 survey has included questions on adult health care coverage since 1991. West Virginia's prevalence of adults lacking health care coverage 13 in 1999 was 18.1%, compared to the U.S. median of 12.4%. As Figure 5.1 indicates, the state rate of uninsured adults has been significantly higher than the national rate in every year from 1991 through 1999. BRFSS data for 1999 indicate that, nationally, 13.5% of men and 10.7% of women reported being without health care coverage; men and women in West Virginia reported markedly higher rates at 19.4% and 16.9%, respectively. (Appendix D contains a table detailing the state's 1999 prevalence of no health insurance by selected demographics, as well as state and national rates for 1991 through 1999.)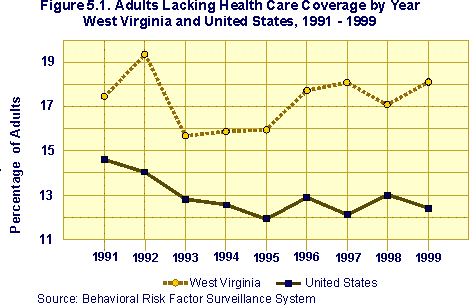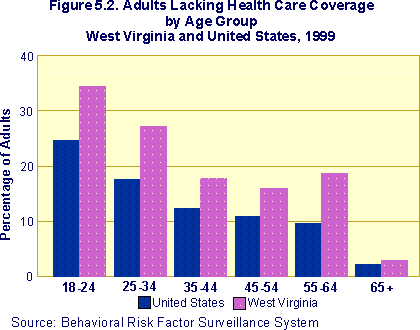 Figure 5.2 illustrates the differences between the state and the nation in percentage of adults by age group who reported no health insurance in 1999. At all ages, West Virginians were significantly more likely to respond negatively when asked if they had health care coverage.
An additional BRFSS survey question addresses ability to afford health care by asking if there was a time during the last 12 months when the respondent needed to see a doctor but could not because of the cost. In 1999, 15.4% of West Virginia adults answered "yes" to this question, compared to 9.6% of respondents nationwide, a statistically significant difference. In only one state, Nevada, did a larger proportion of respondents answer yes to the question in that year. Figure 5.3 presents state and national rates of adults unable to afford care from 1995 through 1999.
Return to top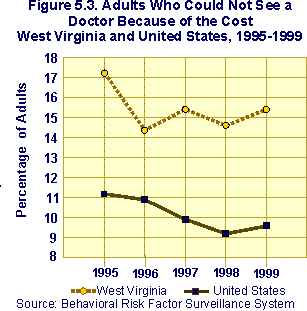 Compared to national statistics, both male and female West Virginians were significantly more likely to have foregone health care during the past year because of economic constraints, 11.5% of men and 18.8%, nearly one-fifth, of women. Adult West Virginians in all age groups were more likely than their national counterparts to answer yes to this question. (See Appendix D for 1999 rates of West Virginia adults prevented from seeing a doctor due to the cost by selected demographic factors, including age.)
Self-Perceived Health Status. Given these statistics, it is not surprising, therefore, that West Virginia ranked first among all 52 1999 BRFSS participants in the proportion of adult residents who characterized their general health as "poor." While nationally just 3.3% of adults reported overall poor health, 8.8% of West Virginians did so, a statistically significant difference. Since 1995, West Virginians have consistently reported higher rates of self-perceived poor health than respondents in the U.S. as a whole (Fig. 5.4). Appendix D contains more detailed information from the 1999 BRFSS on self-perceived poor health status.
Return to top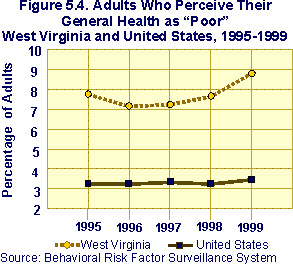 Health Care Providers. Health care provider shortages in rural areas have troubled West Virginia for more than two decades. The federal government (Division of Shortage Designation, Bureau of Primary Health Care, Health Resources and Services Administration, Department of Health and Human Services) designates an area as a Health Professional Shortage Area (HPSA) based on the ratio of primary care physician providers to the population. The designation is usually a geographic area consisting of a county or a sub-county area. In 2001, there were 50 HPSAs in the state com- prising all or part of 40 of West Virginia's 55 counties. Additionally, 50 counties were wholly or partly designated as Medically Underserved Areas.14
As of May 2001, there were requests for 122 primary care physicians for rural underserved areas of West Virginia. Of these, 30 were requests for internal medicine specialists, which could include cardiologists. There were additional requests for 95 non-physician providers, i.e., nurse practitioners and physician assistants. While health care professional recruitment is a challenge for West Virginia, retention of practitioners is equally challenging. West Virginia normally retains an average of 50% to 60% of graduates from the three state medical schools; in 2000, however, the retention rate dropped to 42% (33).
Doctors Specializing in Care of the Heart and Blood Vessels. A "medical doctor" is traditionally known as a physician who has had years of training in understanding the diagnosis, treatment, and prevention of disease. The basic training for a physician specialist includes four years of pre-medical education in a college or university, four years of medical school, and, after receiving the MD or DO (Doctor of Osteopathy) degree, three years of training under supervision (residency). Training in sub-specialties can take another one to three years. This training increases the depth of knowledge and expertise of the specialist in their particular field. Within the specialty area of internal medicine is the sub-specialty of cardiology. A cardiologist is a physician who specializes in the diseases of the heart, lungs, and blood vessels and manages complex cardiac conditions such as heart attacks and life-threatening, abnormal heartbeat rhythms. There are several sub-sub-specialties within the sub-specialties of cardiology, including:
Clinical Cardiac Electrophysiology, which involves intricate, complex, technical procedures to evaluate heart rhythms and determine appropriate treatments for them;
Interventional Cardiology, which uses specialized imaging and other diagnostic techniques to evaluate blood flow and pressure in the coronary arteries and chambers of the heart and technical procedures and medications to treat abnormalities that impair the function of the heart;
Pediatric Cardiology, which includes the provision of comprehensive care to patients from infancy to young adulthood. This specialist is skilled in selecting, performing, and evaluating the structural and functional assessment of the heart and blood vessels and the clinical evaluation of cardiovascular disease; and
Cardiac Surgery, a sub-specialty area of general surgery that includes surgeons who provide operative and critical care of patients with pathologic conditions in the chest. This includes the surgical care of patients with blockages in the arteries that supply blood to the heart muscle and problems with the great vessels and the valves within the heart.
Return to top
Nurses Specializing in Care of Patients with Heart Diseases. Within the practice of nursing, similar organizations and certification methods exist to provide tangible recognition of professional achievement in a defined functional or clinical area of nursing. The American Nurses Credentialing Center has certified more than 150,000 nurses throughout the U.S. and its territories in more than 30 specialty and advanced practice areas of nursing, one of which is cardiac and vascular care. This specialty focuses on problems with lipids, cholesterol, and triglycerides in the blood, rehabilitation of patients who have suffered a heart attack or other cardiac event, and the treatment of patients with diseases of the blood vessels, as well as those at risk for these diseases. Services are provided in a variety of settings including acute and ambulatory care facilities, community-based facilities, and work-site and school-based programs. The cardiovascular nurse is responsible for the development, coordination, and evaluation of a plan of care that uses a multidisciplinary/case management approach. While concentrating on cardiovascular health, their practice considers all influences on health status and the related social and behavioral problems. In the fall of 2001, the cardiac and vascular nurse examination will be broadened to include the sub-specialty of cardiac rehabilitation nursing. Nurses with advanced practice status (achieved through a master's level academic program) can practice independently under the supervision of a partnering physician. Advance practice nurses can specialize in several areas including acute care, which includes training specific to diseases and conditions of the heart. Currently in West Virginia there are five acute care advance practice nurses. Three practice in Wood, Putnam, and Monongalia counties, while two practice out of state. As of April 2001, there were approximately 300 critical care certified registered nurses (CCRNs) living in West Virginia 15.
Cardiac Rehabilitation. Cardiac rehabilitation is a supervised program designed for heart patients to improve their overall physical and mental functioning following a heart-related surgery, a heart attack, or the diagnosis of heart disease. These programs can be found at most hospitals or within local communities around the country. Every rehabilitation plan is tailored to meet the individual needs of each patient. The programs are designed and overseen by a physician, usually a cardiologist, along with a team of other health care professionals. Most plans include a program of carefully planned and supervised exercise training, nutritional counseling to lower dietary fat and cholesterol levels, stress management and relaxation training, modification of coronary risk factors, and careful monitoring of cardiac health. Cardiac rehabilitation can help to reduce the risk of another cardiac event, or the worsening of a heart condition already present. Not only can cardiac rehabilitation improve the patient's physical health, but it can also be helpful to the patient's emotional well being if patients are struggling with depression — a common condition in recovering heart patients. There were a total of 35 cardiac rehabilitation centers in West Virginia in 2001. Figure 5.5 shows the locations of the 35 cardiac rehabilitation centers in the state, as well as cardiac surgery sites and counties with physicians specializing in cardiovascular disease.
Popup Map of Number of Cardiovascular Specialists, Cardiac Surgery Sites, and Cardiac Rehabilitation Programs by County
12 See Chapter Two: Cardiovascular Disease Risk Factors for a discussion of the Behavioral Risk Factor Surveillance System. Return to text
13 Answered "no" to the question "Do you have any kind of health care coverage?" Return to text
14 The federal government determines "medically underserved" areas using the following criteria: the ratio of primary care physicians to the general population; the five-year infant mortality rate; the percentage of population earning income at or below 100% of the established poverty level; the five-year low birthweight rate; the percentage of population over age 65, and the fertility rate of females aged 15-44 (34). Return to text
15 There are no data currently available to indicate how many of these CCRNs were actually practicing in the state or the different specialties or practice settings represented." Return to text
Return to top