Menu
Home Page
Project WATCH/West Virginia Birth Score Program: Working in West Virginia to identify high-risk infants, critical congenital heart disease, and hearing loss.
Project Overview:

The identification of infants who are at greatest risk for health and developmental problems, and ensuring that these children have access to appropriate health and special care systems, are ongoing concerns for state health officials. In this regard, the West Virginia Bureau for Public Health, Office of Maternal, Child and Family Health and the West Virginia University School of Medicine, Department of Pediatrics have worked collaboratively to develop the Birth Score-Developmental Risk Screen and Newborn Hearing Screen initiatives. This partnership has not only expanded the state's capacity to meet its federally required "child find" responsibilities, but it has also made a significant contribution to the reduction of mortality among West Virginia infants who are one month to one year of age.

On March 14, 1998, the state legislature amended chapter sixteen of the code of West Virginia by adding Articles 22A and 22B. Article 22A requires the testing of newborn infants for hearing loss and requires that physicians or midwives attending a live birth assure that a test for hearing loss is performed. Article 22B authorizes the division of health to establish and implement the Birth Score Program and requires that hospitals, birthing facilities, attending physicians and other persons attending a birth, ensure that a birth score is determined.

Twenty-five birth facilities submit data electronically via EMR record uploads or a secure online reporting form.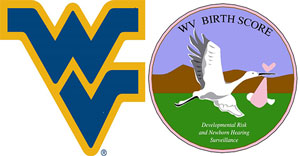 Quick Links