Five Promises for Children and Youth and the Forty Assets (17 pages) - PDF
MVParents.com, the resource for busy, caring parents like yourself who want information you can trust about raising responsible children and teens. You'll find easy, time-tested ideas and tools to guide your kids in making smart choices and avoiding potential pitfalls. Count on us to cheer you on as you "stay in the game" and become the Most Valuable Parent you can be.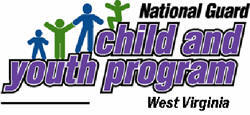 The West Virginia National Guard Family Program's Youth Program will work together with military members and families, community leaders and organizations and citizens to address the needs and interests of Guard youth within our state.
West Virginia's Adolescent Health Initiative is a project developed and coordinated by the Infant, Child and Adolescent Division, Office of Maternal, Child and Family Health, Bureau for Public Health, Department of Health and Human Resources.
OUR VISION promotes optimal physical, emotional, cognitive, social, and spiritual well-being for children and youth throughout West Virginia.
OUR MISSION supports community collaborative efforts designed to develop the assets youth need to thrive and become successful across the State of West Virginia.
Formal work with the Adolescent Health Initiative (AHI) began in 1988. Introduction of the developmental asset principles of SEARCH Institute brought about a change in the mission in 1993. The Office of Maternal, Child and Family Health funds a dedicated network of eight regional Adolescent Health Coordinators across the State of West Virginia. The Initiative is designed to introduce, develop, train, and provide needed technical assistance to youth, parents, teachers, health care professionals, other regional networks, and civic groups with focused attention on improving adolescent health indicators while building asset-rich communities.
The Conceptual Framework for Adolescent Health (developed in partnership by the Association of Maternal and Child Health Programs, and the State Adolescent Health Coordinators Network with funding from The Annie E. Casey Foundation) provides a foundation for addressing adolescent health issues utilizing a youth development approach. Healthy People 2010-Understanding and Improving Health-Critical Objectives for Adolescents and Young Adults targets specific youth health outcomes to be addressed across programs providing a primary health prevention focus. Search Institute has identified 40 positive experiences and qualities everyone can bring into the lives of children and youth, called the developmental assets. The Adolescent Health Initiative has fully embraced the asset development approach. Regional Adolescent Health Coordinators provide a wealth of information, offer asset presentations, facilitate community-building asset initiatives, and coordinate with schools to assist with Search surveys.

This site has had
hits since May 26, 2004